Latest Adventures
We have found that every row is an adventure. Click on any of the blocks below to see pictures or a short video and note about our latest trip. If you are near Sarasota email me at jhenderson@coastalrowingusa.com to join us on an adventure or take a demo row in a LiteBoat.
Practicing my Coastal Rowing skills, more fun then I can describe!
Look at that oar slicing into the wave, this was a great shot!
We got the latest edition to our fleet, the LiteRace 2X. Now it's time to really start training for races, but it's still so much fun!!
This boat is just so beautiful in so many ways. She handles great and is as fast she looks! We are really loving it!!!!!!
Welcome to our newest member of the LiteBoat Family here in her LiteSport+.
Members of Lake County Rowing Association getting ready to take off in our LiteSport 2X.
Members of Lake County Rowing Association enjoying our LiteSport+ and LiteSport 1X
Members of Lake County Rowing Association showing us how it's done in our LiteSport+ and LiteSport 1X.
Members of Lake County Rowing Association looking good while giving our LiteSport 2X a try.
And here he is heading for the finish in style!!
Here's Greg from Michigan LiteBoat about to take the LiteRiver down the course at the World Rowing Masters Regatta, after hours!!
World Rowing Masters Regatta
We had a great time at the 2018 World Rowing Masters Regatta, met lots of nice people in the world of rowing.
While reading about the upcoming 2018 World Rowing Coastal Championships we noticed a link to try Coastal Rowing while visiting British Columbia. http://rowingbc.ca/try-coastal-rowing/
When we visited the site we noticed that they are using one of our banner pictures from our website. Wish I could be there in person!!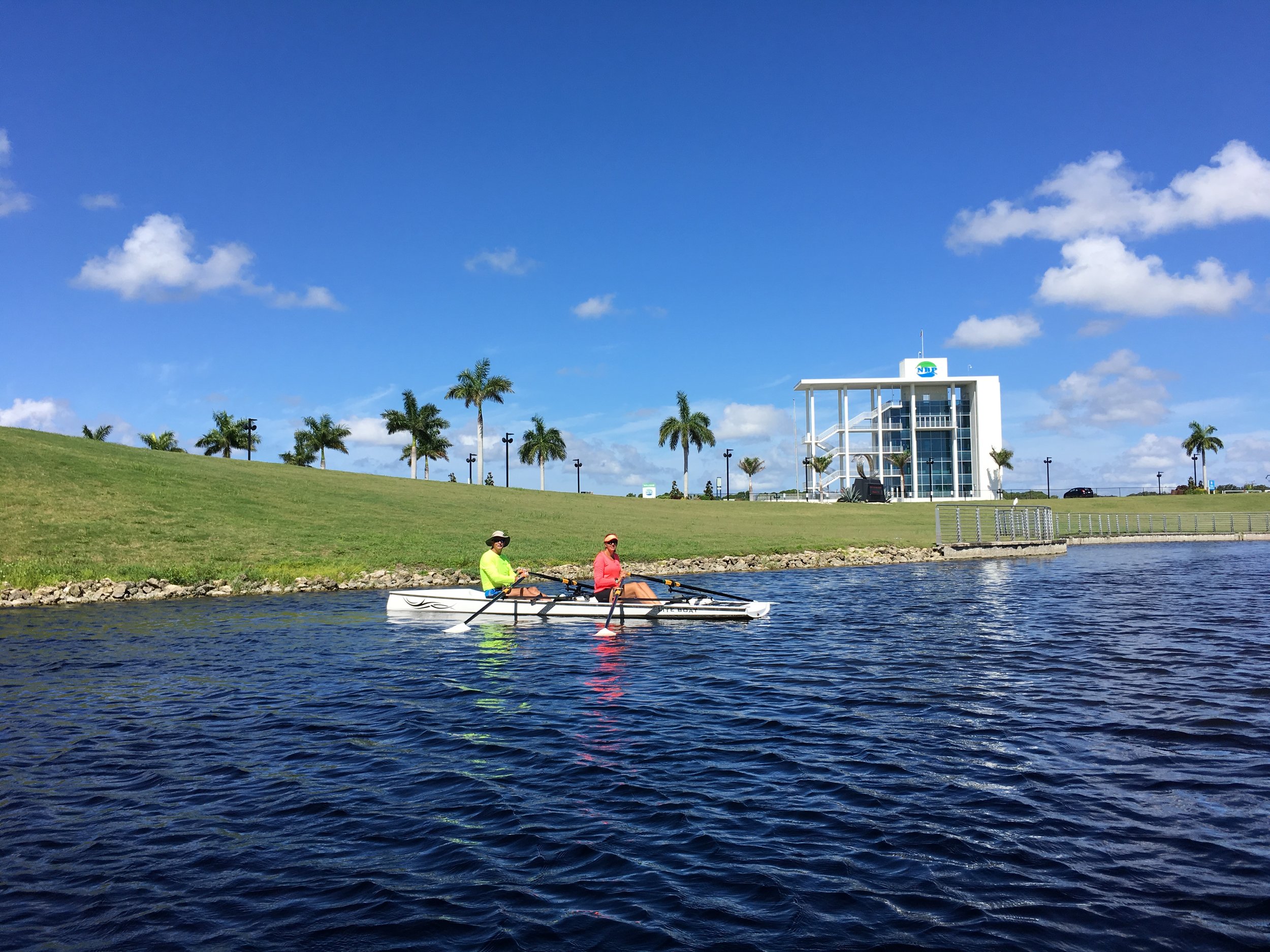 We are lucky to have a world class rowing facility in Sarasota for when we want to test our straight line skills. Look for our booth at the 2018 World Rowing Masters Regatta Sept 27-30. http://nathanbendersonpark.org/
I have always worried a bit about leaving my boat on a dock or in a parking lot where I have walked away. I have developed this simple but effective way to secure your boat. Once you place a lock on the end the bar can not be removed, and the tracks for the rigger cannot be unscrewed from the boat. Add a cable to the dock or car top and its not going anywhere. Email me for more information if you would like to build your own, or if you would like me to make you one for a nominal fee. This one is made from Stainless.
This is the proper way to store your LiteBoat when not in use.
We custom built some racks to help our new customer store her new LiteSport+.
Another new member of our LiteBoat family taking delivery of her LiteSport+. We are looking forward to many rows together.
What a great shot of a new owner enjoying his LiteSport 1X up in Illinois. One with nature, does it get any better!!
Two of our newest members of the LiteBoat family!!
Cleaning up after a nice session rowing on Highland Lake in New Hampshire.
Here we are trying out our new high visibility sport tek cool shirts, and yes I am on the phone!
While this was a great day, little did we know this would be his last trip. Sadly a few months later his little organs gave up after 14 years of adventure. We miss our little Buddy!!!
Remember the gentleman from Oklahoma, he is the proud owner of a brand new LiteSport 2X. He sent me this picture taken after his maiden voyage on Lake Hefner in Oklahoma. He informed me that Lake Hefner is one of the top 10 windiest lakes in the U.S. That just makes it more fun in the LiteSport 2X!!
Back rowing in Sarasota and we met this fine gentleman out on a row. He was in a beautiful hand built training shell. We look forward to many rows with him in the future!!
We came, we saw, we rowed Jocassee!! well at least 8 miles of it. It was a great day, but we will be back as there is so much more to see!!
Back on the trailer and ready to head back up the mountain.
One of the great things about exploring in a LiteSport 2X is there is plenty of room to take your gear. This comes in handy when your out on Lake Jocassee and find a good spot to stop and have lunch!!
On the SE side of Lake Jocassee you will find this beautiful area.
Next we rowed on Lake Jocassee parts of which are in N.C. and S.C. the beauty is almost behond description. I will post pictures, but you really have to see it to believe it!!
The second time we rowed on Lake Sequoyah a gentleman joined us to try out rowing a LiteBoat. It was a spectacular day and he really enjoyed it!!
Here we spent a couple of hours rowing around in the beautiful waters of Lake Glenville in N.C.
Beautiful rowing on Lake Sequoyah in N.C.
Have trailer, will travel. We headed up to the N.C. Mountains to row on some beautiful mountain lakes. LiteBoats love travel and adventure!!
We had a dedicated rower fly in from Oklahoma City to demo row the LiteBoats. Not only did he travel a great distance, he rowed as a tropical depression was passing by. He said it was perfect as it's always windy where he rows!
We had a great time at the Suncoast Boat Show at Marina Jacks April 20-22. It was a fantastic chance to see these great boats in person. We met many wonderful people who were very interested in the LiteBoats. We look forward to seeing them for a demo row, and out on the waters of Sarasota enjoying their new boats very soon!
Mathieu Bonnier, the Founder of LiteBoat, was in Sarasota to Race in the WaterTribe 67 mile Ultra Marathon from Fort Desoto Park to Stump Pass held on March 3rd and 4th. He raced our Blue LiteRace 1X. The race was delayed 2 hours due to high winds. Mathieu had gone outside based on a forecast of NNE winds of 12 knots. The race went well until the winds shifted out of the NNW and built to 20 knots. By the time he reached Venice the seas had built to 5 - 6 feet on the outside. Mathieu made it into Venice inlet, the race was called off by the Coast Guard due to weather and four rescues.
We had a customer request a demonstration row on February 19, 2018. We met at Ken Thompson Park in Sarasota and he tried a LiteSport 1X and a LiteRace 1X. It was an absolutely beautiful day and he loved the boats!